Time Master Pro
Regular price
$700.00 USD
Regular price
Sale price
$700.00 USD
Unit price
per
Time Master Pro Home Skincare Device
Why we're hooked:
The Time Master Pro is an innovative device that delivers serious results in 10mins. Plump (filler-like) + Sculpt + De-puff + Heal.
LED Infared, Ultrasound & EMS (Muscle Stimulation) increase collagen fibers and elastin that naturally lifts, fills-in lines and wrinkles as it tightens the skin.  Results in healthier and younger looking skin.
Professional grade low frequency Ultrasound activates skin metabolism, stimulates cellular regeneration, detoxes cells, increases collagen production and oxygenation- further strengthening, lifting & plumping the skin.


Evidence shows that efficacy and safety of LED (light therapy) to provide remarkable effects at reducing the signs of aging, including hyperpigmentation.
Safe for all skin types, except inflamed acne. 




Benefits of the LED lights on the Time Master Pro.



Blue LED: Kills acne causing bacteria and balances oil production. (470nm)
Red LED: Increases blood circulation, increases collagen formation, promotes healthy aging. (650nm) 
Infared Light:

 (940nm) Boosts collagen, reduces inflammation

Green LED: Hyper-pigmentation, skin brightening.     
Multi LED: Wrinkle smoothing, tightening and firming as well as all above.
Mulit-Flashing LED: All of the above benefits at the fullest strength.
Kit Includes:
Time Master Pro
Sculplla H2 Promoter Collagen Gel ($90 Value)
Charge cord for US
Tool for changing the battery

Clients are saying:
"The before and after appearance of my skin are incredible.  The best skin care device that I've used. My first treatment and then going out that night, I felt years younger.  I used every 2 days for a month and then was able to go to 2 days a week to keep face looking fabulous.  Love the LED lights and really feel like this is doing some good to my skin".  Kim
"Received the Time Master Pro yesterday. I did a treatment at 3 pm then went out with my daughter at 8 pm. My daughter starts asking me, "Mom, did you go and get fillers in your cheeks?" She said my face was noticeably plumper. I have never had any fillers. So very happy with my purchase!"  Susan
"The plumping and toning that I see is better than what I have been able to find in any of my other devices- and have many!" -Lynne

DO NOT USE WITHOUT CONDUCTING GEL. Using an ultrasound therapy device without slippery conductive gel will damage your device. As the skin starts to become dry, spritz the skin with the Scupllla Mist or water to re-wet the conductive gel. Treatment may be repeated every 3 days or 2x per week. Do not use it more than that!
Cleaning:
Wipe round head of device with a clean dry cloth. Do not use alcohol or harsh cleaner on unit or submerge in water. 
Tips
The plumping will last for 2 to 3 days during the first month of use. It is recommended to use the device every 2 to 3 days. After a few weeks, the plumping will last longer, and you can cut back to just twice per week.
The device does feel active on the skin.  If you have thin or sensitive skin start of level one.  
Technical Specifications & Warranty
Ultrasound Vibrations: 90,000 waves per second
LED Specifications: Blue LED is 470nm, Green LED is 520nm, Red LED is 650nm, Infrared LED is 940nm. Blue wavelength penetrates to 1mm, Green penetrates to 2mm, Red wavelength penetrates to 3mm, Infrared wavelength penetrates 5-10mm
Battery: Rechargeable Lithium-Ion Polymer Battery
Color: Mirror Silver
Maintenance
This is a professional strength device. It is recommended to change the battery once per year. Contact us to purchase a battery. Changing the battery is a simple procedure that you can do yourself.
Warranty
The manufacturer's warranty is one year from the date of purchase. Replacement due to manufacturer defect only. This does not cover improper use or dropping the device. During the warranty, the device may be replaced, not refunded. 
No Returns on Handheld Devices.
Only sold within US.
We cannot ship to Canada. Any orders placed with a Canada shipping address will be refunded in full within 24 hours.
Contraindications
Do not use with any electronic implanted medical devices such as pacemakers. 
Do not use without prior approval from your healthcare provider if you have a medical condition.
Do not use the Time Master Pro if you have or are experiencing any of the following: open wounds, injuries, or sores; herpes; hepatitis; inflammation or sunburn; infections; contagious or en-topic dermatitis; fever; metallic implants; extreme hypertension and cerebral infarction; metal pins or implants; electrical implant; cardiac health conditions; irregular heartbeat; thyroid problems; inflamed or folliculate acne; pregnant or menstruating; epilepsy; multiple sclerosis; furnculous; carbuncle; enigma; general lupus; Madison's Disease; any bleeding illnesses.
Not for use on or by children between 12 and 17 without direct parental supervision.
Do not use on children under age 12.
For External Use Only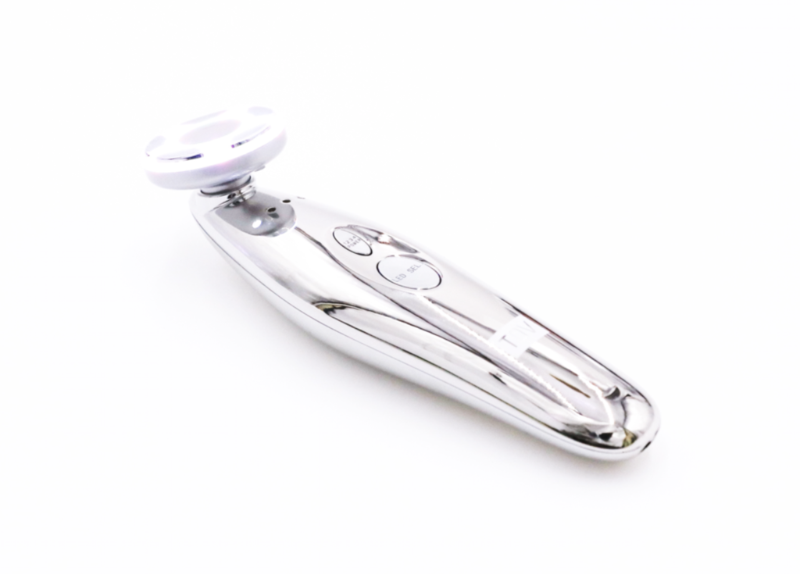 The best skin care device -TMP
Share
63 year old man who …..
Used has used this for a few months, friend took a close up before shot and then past a few months and the difference mirrored the results highlighted in product's description. Good stuff. Thank you
Time Master review
I am thrilled to review My Time Master Pro! This little machine has given my face a fullness and lift that it needed to look years younger than my 76 year old self. The downward hang of my cheeks has changed to a much fuller youthful look . I am very grateful to be able to acquire this machine. It is easy to use. It is like a personal face lift machine. I highly recommend this product!!! I love my "new" facial glow.
Outstanding results
The results are fantastic the lift tighter looking appearance and so convenient and fits in with my busy life style.
Amazing!!
I cannot Recommend this product enough! You'll notice a different almost instantly!
Your skin will look so much more plump, firm, and toned! I'm obsessed with it! I highly highly recommend!
Plump it Up
The time master pro is so amazing. I've been using it twice a week week and the results are wonderful. I've already been blessed with great skin, but adding this has brought the youthfulness look with the firmness I've been looking for. I feel the collagen coming back. Love ❤️