Sheet Mask: Hydra Velvet Mask
Regular price
Sale price
$10.00 USD
Unit price
per
Sheet Mask: Hydra Velvet Mask
(Contact us for WHOLESALE Pricing)
Why we're hooked:
HYDRATE, NOURISH & PLUMP YOUR SKIN WITH PLLA...FOR A FILLER-LIKE LOOK!
This sheet mask ROCKS! For Special Occasions...or More Often for Serious Skin Care.  
*ACNE SAFE*
This Hydra PLLA Velvet Mask utilizes the same active ingredient found in the other House of PLLA skin care line (formerly Sculplla line). PLLA (Poly-L-Lactic Acid) firms and fills up the skin, boosting collagen production to unveil dewy, youthful skin. 
This silky soft sheet mask hydrates, plumps, tones by delivering advanced anti-aging ingredients, including PLLA, brightening botanicals, peptides and AHA that are artfully combined to give you radiant, bouncy skin. 
Contains Korean PLLA -"filler" ingredient same ingredient as the Sculptra injectables from the Derm's office.  PLLA plumps the skin and boosts collagen production to unveil dewy, youthful skin. 
Helps even texture and firms the skin with star ingredients like adenosine, royal jelly extract, and centella asiatic.


Use as a one-time use before a big event (instant plumping and hydration) or up to 3 consecutive days when stored in the refrigerator, inside the bag with its extra serum for enhanced plumping and lifting. 
Best results are achieved when face is kept dry (no water) for 12 hours after application-this will give the active ingredient to get a good hold in the skin.


There's no downtime, except avoiding water and sweat for 12 hours, and the results are cumulative.

Available as a single or in a box of 10 (priced as one free). 
Estis Take:
Most masks we've tried are nice, leaving the skin hydrated, but this one completely surprised us with the toning and plumping action.  The buzz worthy PLLA ingredients gives the extra firming and helps minimize fine lines & wrinkles.  It is an  impressive mask that delivers results!
How to use
Unfold the mask and apply to freshly cleansed and toned skin. For best results, we recommend leaving this mask on for 20-30 minutes. Do not rinse! Massage the excess product into the face, neck, and chest. Great as an add on service, or apart of a special (filler like facial treatment when combines with Microcurrent or Time Master Pro ultrasound). Also great for holiday gifts or one included free with purchase.

For best results: DO NOT GET YOUR FACE WET OR APPLY ANY MAKEUP/skincare PRODUCTS for a minimum of 12 hours after application. Don't use washcloth or exfoliate for at least 3 days afterwards.
This mask is not bio-cellulose. It is not compatible with the Time Master Pro.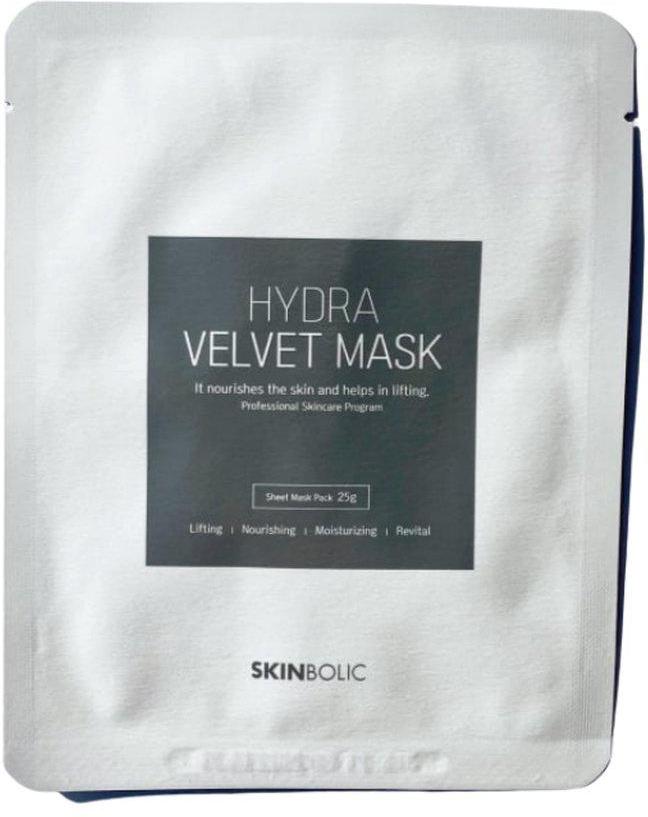 Sheet Mask- Hydra Velvet
Ingredients
Water, Dipropylene Glycol, Glycerin, 1,2-Hexanediol, Glycereth-26, Betaine, Butylene Glycol, Propanediol, Hydrolyzed Collagen, Centella Asiastica Extract, Nelumo Nucifera Flower Extract, Royal Jelly Extract, Polyglutamic Acid, Beta-Glucan, Sodium Hyaluronate, Portulaca Oleracea Extract, Chamomilla Recuitita Flower Extract, Algae Extract, Hamamelis Virginia (With Hazel) Water, Camellia Sinensis Leaf Extract, Lavandula Angustifolia (Lavender) Extract, Betula Alba Bud Extract, Corylus Avellana Bud Extract (Hazelnut) Olive Bud Extract, Walnut Extract, Poly-l-lactic acid, Arginine, Adenosine, Hydroexyethyl Acrylate/Soldium Acryloyldimethyl Taurate Copolymer, Xanthan gum, Acrylates/C10-30 Alkyl Acrylate Crosspolymer, PolyvinylAlcohol, Ethythexiglycerin, Fragrance
There's no downtime, except avoiding water and sweat for 12 hours, and the results are cumulative.
Share